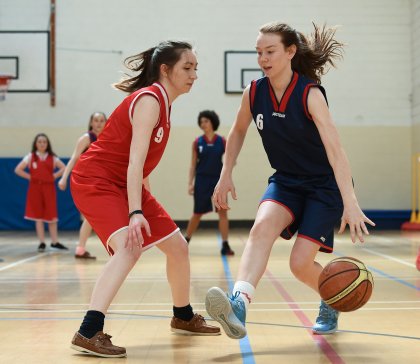 Basketball
Basketball
There has always been a tradition of basketball in Coláiste Muire, Ennis. This tradition has been upheld in their recent triumphs.
Teams in Coláiste Muire are nurtured and developed from First Year. In 2016, our First Years were Runners Up in Clare and went on the win the Regional Final in Kerry against tough competition.
Our Second Years won both the Clare Final and the Regional Final in 2016. As a result of their successes, they were invited to take part in the prestigious U15 Subway Competition in the National Basketball Arena, Tallaght.
Last year was one to be remembered at Senior level. With both Clare and Regional titles, the girls went on to represent the school in the All-Ireland Cup Semi-Final which took place in Limerick. Unfortunately, they weren't the best team on the day. In the League, the team also qualified for All-Ireland Play-Offs in Cork.
At both Junior and Senior level, Coláiste Muire are going from strength to strength. The students train both at lunchtime and after school. Their dedication and commitment to the sport and the school is commendable and the fruits of their labour are event every time they step on the court. Undoubtedly, Coláiste Muire will be making headlines in the basketball community in the very near future.