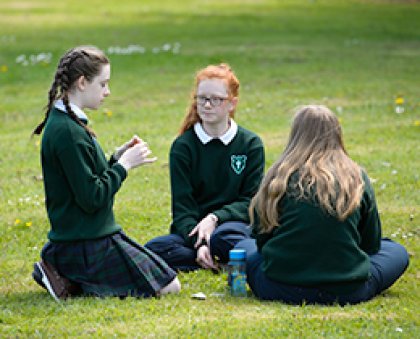 Breakfast Club
Our Breakfast Club started in 2015/16 for any students "running late for breakfast". It is open Tuesday through to Friday from 8.20 -8.40 and takes place in Ms. McGrath's Home Economics Room. Tea or Coffee and toast is available for all. Transition Year students volunteer to help out on a rota basis. Each year the TY students have a Sleepover in school. Funds raised go to Young St.Vincent de Paul who in turn finance the Breakfast Club.
The Breakfast Club is also a nice social occasion. It can be an ideal place for new first years to meet others in their year group in a friendly environment where they are encouraged and supported by senior students.
Many thanks to Gemma Brady, Caitriona Ní Ríordáin, Eimear Ní Choiléain, Ava Glynn, Niamh McHugh, Néidín Mooney, Gabrielle Pereira, Medb de Faoite, Maeve Gleeson, Shona Hale, Ailbhe Bane and Robyn Maxwell.
The organising teachers are Ms. O'Regan and Ms. Browne. Thanks also to Ms. Crean Lynch Ms. Kelly, Ms. Hooke and Ms. E Madden.