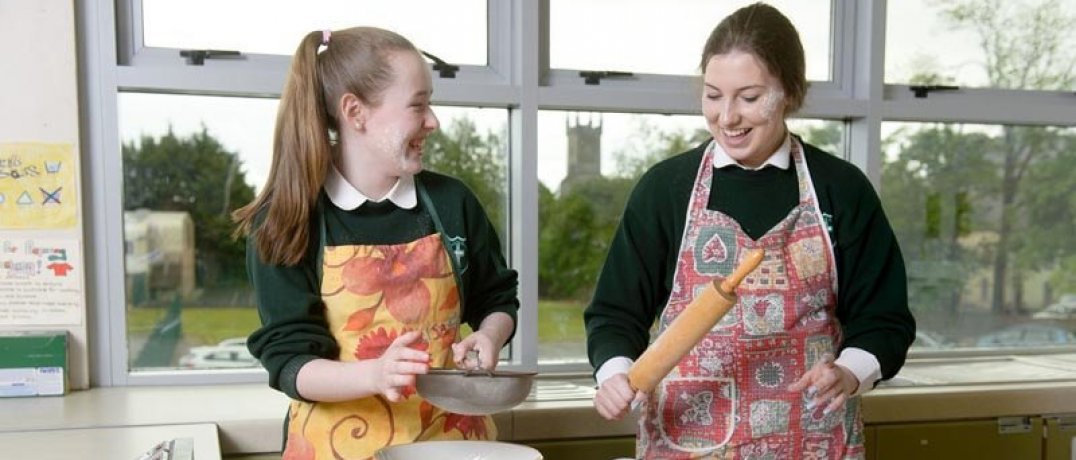 Home Economics
Home Economics is an option at Junior Cycle, while at Senior Cycle students have the opportunity to study Home Economics – Social and Scientific
The school's two Home Economics kitchens are fully equipped with all modern appliances and provision is made annually to upgrade and replace equipment where necessary. Students work in groups during practical cookery classes at one of the well-equipped units, mastering a variety of culinary skills, throughout the year.
With Junior Cycle students required to undertake a practical food skills examination in third year and Leaving Cert students required to undertake four coursework practical assignments, both Home Economics kitchens are very well utilised.
All Transition Year students complete a module of Home Economics. There is a significant emphasis in the programme, to develop the culinary skills of these students.
Our spacious and bright Textile Room is well resourced and used by students when completing the textile studies element of the specification. In addition students have the opportunity to design and make or upcycle a textile item as part of their Classroom Based Assessment – Creative Textiles in second year.  Basic sewing skills may also be taught as part of the Transition Year Home Economics programme.
Home Economics is a subject that continues to be a very popular at Junior, Transition and Senior Cycle. Many students proceed to further study in the related fields of Food Science and Health, Nutritional Science, Food Technology and Dietetics to mention but a few.